If you have experienced cracks or chips in your windshield, then kits made specifically to fix that problem can help minimize the damage and halt the spread of the cracks. The windshield repair kits work best immediately after the cracks appear. If you delay, dirt and water will fill the cracks, making it harder for repairs to work well.
Windshield repair kits reduce the time you would spend searching for a mechanic for fixing or replacing. You can do it yourself – as long as you follow the instructions – and your windshield cracks and chips will be hidden.
Best Windshield Repair Kits – My Reviews
Rain-X 60001 Windshield Repair Kit – Best Kit Overall

The kit consists of one gram of resin, curing strips, and a sleeved razor blade. It should be used the moment cracks appear and before dirt has accumulated. The resin will expel any air from the cracks and make the windshield stronger. The kit is recommended for cracks less than 12 inches long and for round damage not more than an inch in diameter.
You can use the Rain-X on all types of laminated windshields, but not where is the damage has penetrated more than one layer of glass. The kit offers excellent value for money because you can use the kit for multiple repairs.
The kit is great for people who have never used windshield repair kits before. There are clear do-it-yourself instructions that, when followed, ensure outstanding results. Once the resin is applied, your windshield becomes stronger than before. It is advisable that you be patient with the process —you should see a significant change in the glass after around 30 minutes.

Pros:
Simple to apply
Durable resin
Can be used for multiple repairs
Works on all types of laminated glass
Cons:
Cracks can still be visible upon close inspection,
Clearshield Windshield Professional Kit – Most Comprehensive Toolkit

This kit comes with everything from cordless UV light to 20 carbide drill bits; you have everything you need for proper repairs. Clearshield Professional Kit can be used to make more than 200 repairs. Only one person is needed for repairs.
The kit offers great value, considering all the extras in the box. It should not come as a surprise that most professionals who repair windshields use this kit.
Included in the large box are the following items: 8 inner O-rings, a toolbox, 4 external end seals, 100 curing squares, 10 razor blades, 1 collet, 1 drill set with battery, a drill and charger, a 30 ml thin resin bottle, and a UV light.
Pros:
Kit has all you need for repairs.
Offers great value for money
Kit will make over 200 repairs.
Cons:
Some of the items are basic items in most windshield toolkits
Permatex Windshield Repair Kit (09103)

The kit has everything that you need to perform repairs without any help. Included are photographs to guide you in the process. If you have not used a windshield kit, then the Permatex 09103 could be the best choice for you because it uses a state-of-the-art delivery system that utilizes a spring lock feature; this means the manufacturers have done the mixing for you—all you need is to apply it.
The resin strengthens under sunlight, but you need to apply it in a shaded area. The resin offers a permanent cure to cracks. You can use the kit on laminated windshields, including bullseyes of up to 1 ¼ inches in diameter.
Inside the package, you will find 1 adhesive disc, a Permatex windshield repair syringe and plunger, 1 pedestal, 1 push pin, 1 curing pin, 1 alcohol towelette, and 1 instruction sheet.
Repair cracked windshield with Permatex – Video
Pros:
Strong resin for permanent fixing
Spring lock feature removes the necessity of mixing.
Handles bullseyes of up to 1 ¼ inches
Easy-to-follow instructions with photographs
Cons:
Requires sunlight for the resin to harden
Blue Star Windshield Repair Kit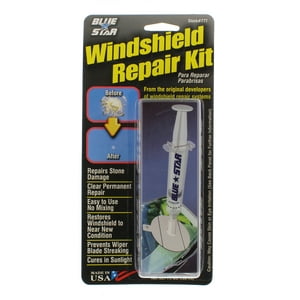 The windshield repair kit can be used for damaged or chipped windshields. The active ingredient is a resin substance that uses the sun rays to harden. You can use it on glass that has been damaged by stones, pebbles, or small rocks. This product prevents the cracks from spreading.
Inside the pack you will find 1 Blue Star repair injector, 1 resin chamber pedestal, 1 adhesive alignment seal, 1 razorblade, 1 tube of quick cure resin, 1 mylar curing film, and an instruction manual sheet in both English and Spanish.
The brand has been in the motor vehicle industry since 1978 and has built a following because it is one of the best windshield repair kits. The kit is designed to enable a car owner to do the repairs by him or herself. It works on cracks up to one inch diameter in size.
DIY Video
Pros:
The resin is tough and can absorb shocks
Being in the industry for a long time, the company has a well- established reputation
You can apply the resin at any time of the day
Restores windshield visibility
Cons:
3M Windshield Repair Kit (AUTO 08580) – Most Advanced Formula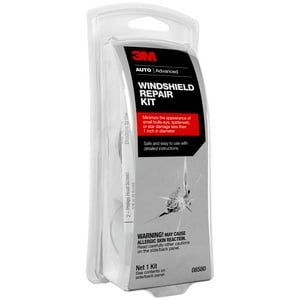 Unlike other kits that require different components, the 3M comes as one piece. You will not need to do any mixing or joining of different components to repair your broken windshield. In addition, the active ingredient used in the formula does not require any heat.
You can use the kit to repair bullseyes and chips. The substance prevents the cracks from spreading. The best part about all this is that once the 3M is applied, your window looks brand new, as the damage is minimized.
3M has very detailed instructions that make repairing a broken windshield a walk in the park. Since there is no mixing involved, you should be done in a few minutes. It's important to understand that you should fix the cracks as soon as possible because if they spread, you will need to get a new windshield.

Pros:
Repairs chips, small bullseyes, spider web cracks, and star damage
Mixing or heating not required
The kit reduces the appearance of glass chips, which makes the windshield look like new
Clear instructions make the process simple and fast.
Cons:
Cracks in a driver's direct line of vision should be repaired professionally.
My Rating Table
Conclusion
Windshield cracks are unavoidable accidents that happen to any motorist. The cost of buying a new windshield can be prohibitive, which is why it is advisable to always have a windshield repair kit on standby. You can fix the cracks and prevent further damage to your windshield. One common denominator is that most are made from resin, which expels air and seals the cracks. Based on these reviews, the best windshield repair kit is the Rain-X 60001.